Electrical Safety: A Christmas Story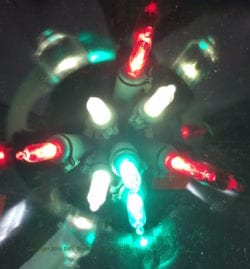 Here at Bill's Quality Electric, LLC, it is our goal to inform and inspire you to Stay Electrically Safe and Smart. With the holidays upon us, we thought we'd take a more story-like approach to provide some inspiration mixed with reminders to be proactive with your Electrical Safety. Enjoy this festive focus! As your surrounds glow with Twinkie Lights
And your Christmas tree adorned
You are rest assured that all is safe
as you reflect on Christmas morn. You used LEDs
to keep the colors cooler
following directions to make certain
the lights go out all the sooner.
To keep your Christmas tree safe
Fresh needles with that delightful scent
Watering ongoing
Taking care, a fire to circumvent
Your Extension cords are minimal
And placed with tender care
All loved ones don't trip or damage them
In all the Christmas flair!
You stay in the kitchen
As you bake cookies delight
To be sure there is no fire
On this Christmas night
The fire place is all aglow
Candles are lit with care
With no flammables nearby
Just Sweet Sensory Delight
The space heater is shut off, unplugged
Since it's already cozy and warm
But when chill returns
It's in the right place
To Joyfully supply
Any needed comfort
To warm the hearth
Without risk of fire
The outlets hold the plugs
That provide the needed power
To infuse light without overload
Perfectly placed for this hour
Appreciated fully for their function
For the delightful stages
Of celebration for this family-focused loving time
Creating memories for the ages!
And there you have it! We enjoyed sharing with you some electrical safety reminders (using care as you decorate your tree, not overloading outlets, placing space heaters where they won't cause a fire and staying in the kitchen when you cook) as you engage and decorate during this Christmas season with those you love. We wanted to wish our customers and readers a Delightful Holiday Season and a Very Merry Christmas from Bill's Quality Electric, LLC! May your days be Merry and Bright! And remember, if you own a business or home in Collin County area of North Texas and are in need of electrical service, repair or installation, give us a call at 214.697.3134 to schedule an appointment with Bill's Quality Electric, LLC. We look forward to doing business with you!